Welcome to Mamaison Residence Downtown Prague. We understand that you want to be at the centre of things. That is why we are located in the very heart of Prague. You can walk to Wenceslaus Square in just 6 minutes. You'll be walking along th Vltava waterfront in 15 minutes. You'll find selected restaurants, cosy cafés, lively bars, a theatre and well⁠⁠⁠⁠⁠-⁠⁠⁠⁠⁠known sights in the immediate vicinity. Nevertheless, our hotel offers a peaceful refuge. Step inside and leave the hustle and bustle of the big city behind. You're home.
Relax in the bright rooms. The natural tones, minimalism and airiness will help you leave the stress behind. Our spacious suites also have a kitchenette and living area. You are simply at ease here.
We are here to fulfil all your wishes. Eat whatever you like for breakfast. Enjoy a workout in our weight room. Relax in our wellness centre Relax Days. And not even parking is a problem – we have an underground garage for you.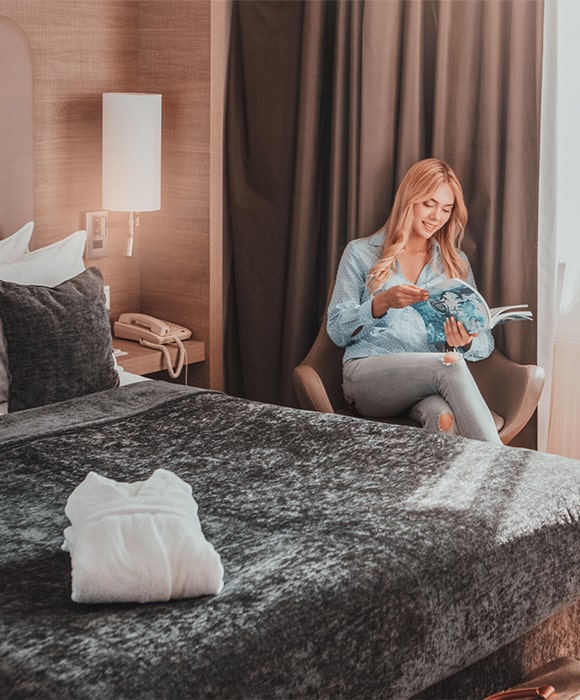 Check⁠⁠⁠⁠⁠⁠⁠⁠⁠⁠⁠⁠-⁠⁠⁠⁠⁠⁠⁠⁠⁠⁠⁠⁠in ⁠⁠⁠⁠⁠⁠⁠⁠⁠⁠⁠⁠⁠⁠⁠⁠⁠-⁠⁠⁠⁠⁠⁠⁠⁠⁠⁠⁠⁠⁠⁠⁠⁠⁠ If you need to arrive earlier, just let us know. Our reception desk is staffed 24/7.
Check⁠⁠⁠⁠⁠⁠⁠⁠⁠⁠⁠⁠-⁠⁠⁠⁠⁠⁠⁠⁠⁠⁠⁠⁠out ⁠⁠⁠⁠⁠⁠⁠⁠⁠⁠⁠⁠⁠⁠⁠⁠⁠-⁠⁠⁠⁠⁠⁠⁠⁠⁠⁠⁠⁠⁠⁠⁠⁠⁠ Sometimes you need more time. We're happy to accommodate you. But please let us know ahead of time.
---
You can look forward to four⁠⁠⁠⁠⁠-⁠⁠⁠⁠⁠star hotel services. But you'll still feel like you're at home. We are always here for you. Ready to fulfil your wishes. Because we know that everyone is different. Unique.
American buffet breakfast
Shop for small purchases
Lobby Bar next to reception desk open 24/7
Underground garage
2 electronic chargers
Free Wi⁠⁠⁠⁠⁠-⁠⁠⁠⁠⁠Fi
Weight room
Concierge
Daily parking 750 CZK/day
Suites with 2⁠⁠–⁠⁠3 bedrooms
Game⁠⁠⁠⁠⁠⁠⁠⁠⁠⁠⁠⁠-⁠⁠⁠⁠⁠⁠⁠⁠⁠⁠⁠⁠room (ping⁠⁠⁠⁠⁠⁠⁠⁠⁠⁠⁠⁠-⁠⁠⁠⁠⁠⁠⁠⁠⁠⁠⁠⁠pong, foosball, pool table)
Work space (a quiet work area with equipment)
Small pets welcome (for a fee)